Microphones are one of the most essential devices that most of us use on a daily basis. May it be for mobile, laptop, desktop, meetings, events, etc. Unfortunately, there are certain times when things just don't work out such as your microphone not working. To make things worse, your computer detects your microphone.
If you're having this problem with your computer, fret not. Here are some ways to quickly fix this issue.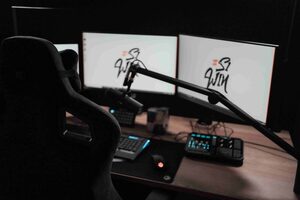 Replug cables
If your microphone is detected but it's not recording or taking in any sound then the first thing you should check is the cable. There are some circumstances from time to time where a computer can detect a connected device but it is unable to function properly because it is not properly plugged in.
If you are using a microphone with cables such as an external one or a headset, it's best to ensure that the cables are tightly plugged into their proper ports.
If you're using a USB microphone…
Try to plug it into another USB port.
Try plugging it into a slower USB port if your PC has multiple USB ports with different generations.
Make sure that the USB is plugged into a USB data port and not on a USB charging port.
If you're using a microphone or a headset that uses a 3.5mm audio jack…
Try to unplug the cable and slowly plug it in but not too hard.
Try to twist and turn the pin while plugging it in.
Make sure that you plug the audio cable of your microphone into the correct color port (Pink) and not on the speaker port (Green) for headsets with a built-in microphone.
The problem with a 3.5mm audio jack is that the metal surface of the pin should be tightly in contact with the metal surface of the port. Any loose connection can result in a malfunction of the microphone or weak to no audio pick-up performance.
Make sure the microphone is not muted
Depending on the model and type of microphone you use, there are some models that come with a built-in mute function and volume control. So the first thing that you would want to do is make sure that the microphone is not muted by the system.
To check, right-click on the speaker icon in the Taskbar and select "Sound or Recording Devices". Under the Recording tab, find and right-click your microphone.
Click "Properties" and click on the Levels tab. Ensure that the speaker icon has no red sign beside it and the volume is set to 100. Check the changes if needed and click "Apply".
If your microphone has a built-in sound and volume control and the system settings have no problem, check and see if the volume control is set to lowest or if the mute button is active.
Additionally, your microphone can also be muted by the software you are using it with. For example, online meeting software such as Zoom, Skype, Google Meets, etc have settings that mute your microphone.
Furthermore, other software such as video games, recording tools, and more can also do the same thing. So it's always best to check and verify each set to ensure that all configurations are correct and working.
Once done, dee if the microphone problem persists.
Updating microphone drivers
If the first 2 fixes that we mentioned above don't fix your microphone problem, then it's time to look at the technical side. The first thing that you would want to check is the microphone drivers.
For your computer to be able to use and communicate with your microphone, it needs a set of drivers that will allow these two devices to work together.
Unfortunately, there are times that system updates or software changes can affect the driver installed for your microphone which ultimately results in issues with functionality. In the worst case, it can break the coded software on your device.
Here are some of the things that you can do:
Update the drivers of your microphone. To do this, visit the website of the manufacturer and check if there are new firmware or driver updates for your microphone.
Check with windows update if there are any new drivers for your microphone by performing a 'Check for updates' via the Windows Update.
Uninstall the driver and reinstall it. Sometimes, a simple reinstall can fix the problem. To do this, open your 'Device Manager' window. You can open this window by typing it on the search bar for Windows OS. Then, click on 'Audio Inputs and Outputs' to expand it and right-click on your microphone. Select "Uninstall device" from the contextual menu. Once done, unplug your microphone and restart the computer. After a complete restart, plug back in your microphone and let the system handle its drivers.
After performing all of the recommended fixes above, check to see if the problem still persists.
Read More: [Solved] Fifine Microphone Not Working? Here Are The Fixes!
Confirm apps have access to your microphone
Computers running on Windows 10 and onwards have a new feature that prevents software/apps from being able to use your microphone and such feature scopes under the Microsofts privacy feature. For computers running on older Windows OS, this won't be an issue at all.
It's possible that you might have accidentally blocked an app from accessing your microphone. To verify if this is an issue for your computer, head to Settings and then Privacy to take a look. On the left sidebar, click Microphone under App permissions. And then, make sure that the slider under Allow apps to access your microphone is enabled. Otherwise, no apps will be able to use it.
We also recommend taking a good look through the list of apps to confirm the one you want to use has access. This first slider and list are only for Microsoft Store apps but scrolling further down will show a section titled Allow desktop apps to access your microphone. Double-check that the slider under this header is also enabled.
While you can't toggle mic access for individual desktop apps, you can, however, still view when they last accessed your mic. This can help you figure out if the app is detecting your mic properly, as the problem might lie with the app itself.
Faulty hardware
If all the recommended fixes we mentioned above did not fix your microphone problem, then it's good to consider that the issue lies in the hardware of your microphone. There can be a number of issues and reasons for a microphone not to work but some of the most common issues that can cause such problems are hardware related.
To verify if it's a hardware problem, try to plug in or use a different microphone. We highly recommend plugging the microphone into the same port to also verify if it's a port problem or not.
For USB microphones/headphones, try plugging them in and see if the issue still persists. For 3.5mm jack microphones, try to plug them into a different microphone port if you have one. Most computer systems nowadays will have 2 different microphones 3.5mm audio port.
One on the case that connects to the audio section of your motherboard while the other one is directly connected and soldered to the motherboard.
In the worst possible case, if the issue still persists, we highly recommend plugging your microphone into a different computer and verifying if the issue persists. If your microphone works properly on a different computer, then this could indicate faulty microphone hardware on your motherboard components.
The only way to get this issue fix if this is the case is to either hire a certified technician who can fix your motherboard for you or buy a new motherboard that's compatible with your system and has a working audio component.
Disable Xbox game bar
Windows 10 and later OS comes with a default gaming designed software called Xbox Game Bar. This software can record clips and screenshots of your game as you play. While this is a handy feature to have for streamers and gamers, it's also known to cause mic issues, especially in some game titles and software.
To disables the Xbox game bar, all you have to do is head to Settings > Gaming > Xbox Game Bar and then disable the Xbox Game Bar. Once done, it is also best to ensure that the Record in the background while I'm playing a game is disabled.
To do this, click on the Captures tab and disable it. Disabling this feature prevents the system from exclusively prioritizing Xbox Game Bar in using the microphone. We also recommend verifying and checking the settings of either AMD or NVIDIA depending on what graphics card you are using and the software installed.
Both now come with an exclusive tool that allows you to record or stream immediately which can cause conflict and issues for your microphone if you're playing a game and then you switch to your internet browser for meetings and video chat.
Source:
Daniel is a professional writer who specializes in technology. He's a nerd for tech but a gamer at heart. He's been writing articles for over a decade and has written various articles covering PC Components, Video Games, gadgets, Featured Technology, and many more. His neighbours call him "The IT Guy" who fixes their router and computer problems for a piece of cookie and milk.